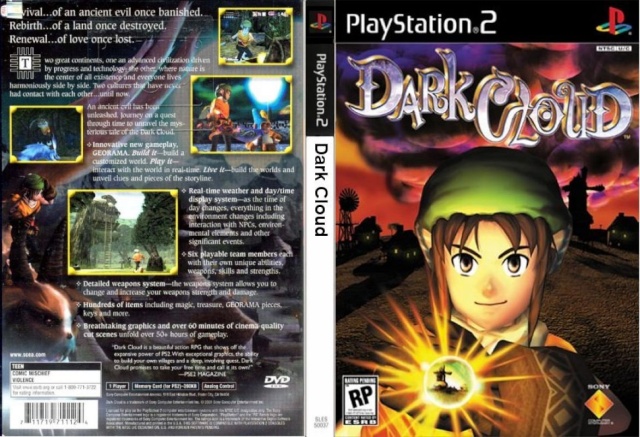 Level5's very first game EVER. (OMG) It was created in 1999 but the PS2 wasn't available at that time (yes they were able to preceed the console itself LOL) so the game had to wait for 2000 to eventually come out. It came to Europe and the US in 2001. AND it was the very first RPG for the PS2.
In an ancient past, the world was divided in two parts : the East and the West. If I remember well, the East was the one that was the more economically developed, while the people of the West still lived the traditional way. There had been a war, settled by the West's mysterious victory. So, 400 years later starts the story of the game.
Everything begins with the awakening of an evil (...pink) genie, thanks to a general of the East called Flag, who heard about that power and wants to use it to destroy alllll the West side of the world. (HUHUHU IMMM SO NAUGHTY NAUGHTY NAUGHTY uh that was YGO the abridged series nevermind.) He starts with a village called Nolun, which habitants were celebrating the beginning of summertime in a colourful festival. That's where the main character, a young boy named Toan, lives with his mother and his -cute- friend Paige. The genie attacks the village from the sky and Toan loses consciousness after trying to save Paige who was about to get run over by...a certain something I can't quite define oh well nevermind.
When Toan awakes, he's in the dark with an old man (PEDO!) who calls himself Simba, the King of Fairies. (No, not the lion.). He explains that there's nothing remaining of Nolun...however, he was able to save the houses and people by enclosing them in magical spheres called Atlas at the very last moment. That could've saved everything, yet the blast scattered them in dungeons! And not only Toan's village : every village or city of the west got destroyed. YAY. Then, the magician decides to trust Toan because he can feel that his heart is pure enough to give him the Atlamillia, a blue stone that will allow him to open the Atlas and rebuild the world. However, it might have hidden powers, too...
So, Toan will go on a journey to fulfill his -forced- duty. But we soon learn that it's actually far more complicated than it seems. What happened 400 years ago? How was the genie born? WHO is that schyzo silver-haired guy who spies Toan everywhere - because he loves him (slaps) - and seems to know a lot about everything without telling anything besides of the fact he wants the Atlamillia? To find out the truth we'll have to rebuild the villages which have their own mysteries and puzzles (AGAIN??!), find (playable) allies to help you in your journey (5, to be precise), be sent everywhere like a ping pong ball by the Moon People (seriousely), go to the moon itself, and...go back 400 years in the past. Now that'll take some doing, eh?
Some important secondary characters
Seda : A young, mysterious silver haired man (we'd give him 17-18 years) who seems to follow Toan everywhere. The first time he meets Toan he only wants him to give him the Atlamillia for reasons Toan wouldn't understand, but then he gets suddenly possessed by a dark violet cloud and attacks him. Nice, red eyes. 8D
He stays as a mysterious character until the last chapter....just on what side is he?
Flag : a greedy colonel who wants to play with the darkness' powers and resurrect the dark genie for his own sake. Naive, actually...you'll get punished, fag!
Simba : The King of fairies who acts as Toan's mentor during the game. Yet I'm not sure he tells us everything...!
He seems to know Seda.
__
Pictures :
Spoiler:
Woooho someone actually made an amv of it. (The song is the intro of the game, composed by Tomohito Nishiura (Layton :3))
https://www.youtube.com/watch?v=pMEm1KnSfKg&feature=related
All in all, of course it's less developed than its sequel Dark Chronicle - but we must bear in mind that, first, it was their very first game ever, and secondly, 1999 is...OLD LOL. And, without even looking carefully, you can already notice Level5's taste for epic faces and diversified character design. As Nuke said for Inazuma, they all look like...they come from different animes XD. Well that's what makes their design soo epic. As for the musics they were composed by Tomohito Nishiura in other words Layton's and Rogue Galaxy's (and dark chronicle's.) As for the storyline it's very long and filled with plot twists until the very end. You just have to be patient because things get revealed very slowly. haha.